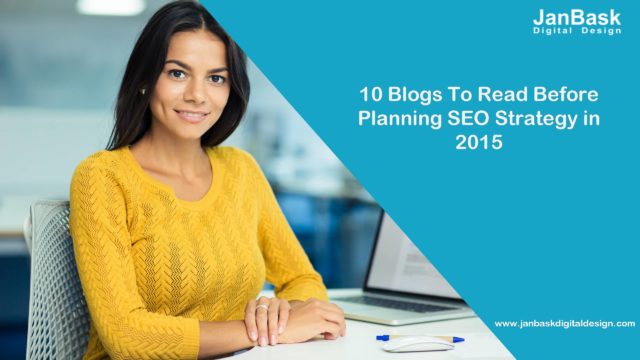 Reading blogs? Do they really help? Yes, especially when you are looking for some solutions and desires to take help of experts around the world. I have shared previously "How Your Content Should Be Optimized In 2015" and "SEO vs Content Marketing — Do You Really Need Both?"
Today I am going to contribute about the best SEO blogs to help you create your SEO strategy for 2015. The world is changing rapidly so the technologies and methodologies. This is a smart age and mobile world. Most of the users are searching from their mobile devices and literate about the knowledge flowing in this internet world.
Read More: How to Boost Your Page Authority?
Based on the different approaches and research results the strategies to approach are changing, and based on this the Google is making changes to its search algorithm. Google was never in the favor of SEO and always tried to implement new identical path to overcome its effects and generate new trends to the market. Releasing the Panda, Penguin and other updates are the strong witnesses of its intensions.
What is a perfect SEO blog
Any blog which educates you with the latest changes in the SEO world, Google algorithm, shares the latest news of the Digital Marketing world and also assist you to understand and over-come the negative impact of it.
Read More: How to Boost Your Domain Authority?
Top 10 SEO Blogs –  You should Read before Planning SEO.
The blog should be informative and written by experts, not any geek. Let's see some of the finest blogs in the world to get you updated with the trends. Happy Reading!!!
Google Webmaster Blog
This is the most important blog you should keep visiting to learn new tactics. Google's official blog helps you with always updated and correct information. This blog never gets out of fashion and make you confident to take actions and prepare your strategies accordingly.

A few major players teaching you more about SEO!
Search Engine Journal
This bog is similar to a garden where you find a variety of flowers to get entertained. There are many different authors writing different topics and you get different voices to hear. This website gives you news along with videos to make the information more synergistic and you can check with the comment box to see if something was uncovered for the respective topic.
Moz
This blog is a fruit tree for those who are looking something based on SEO and Inbound Marketing. This blog has a tremendous approach to divvy up the original research and White board Friday's. This is a weekly update comes with video podcast for SEO advice, tools, and recommendation to follow. They also publish very advanced material to read.
Read More: Difference Between Content Marketing and Advertising?
Search Engine Land
One of the most important blog for SEO, consisting all of the information you are expecting. It is the fastest blog to update the news and indicates to you the ways to compete. Many experts share their understanding on one topic and you can easily find many articles to go in depth.
Search Engine Watch
The name itself suggests the activities performed on this blog. This is the most wonderful blog which watches and monitors the world wide trend of Search Engine Optimization and share with you. One of the best-designed blog to keep you updated with the news and always creates new content very frequently to read.
Occam's Razor
Avinash is a proficient marketing strategist, marketing evangelist for Google and the bestselling author. He always keeps his blog full with the Digital Marketing material and stuff (Digital Marketing Beast). You can keep coming to learn more about your queries and directly post your suggestions and questions for any solution.
Read More: Top 20 Email Marketing Software
Content Marketing Institute
The Content Marketing Institute basically shares the latest news and trends, specifically suggesting you the content strategy to keep yourself away from any impairment. This is a great resource for whitepapers, webinars, many guides to "How –to" and ebooks from a content marketing innovators. You must visit this blog very frequently.
SEO Book
SEO Book is a blog regularly publishes Google patent research for its visitors and deals with great learning for SEO and search engines. This blog is more into providing in-depth and technical information about search engines. You can always empathize with the reasonability.
SEMRush
SEMRush is a big and trustworthy name itself doing more than blogging. They are one of the largest providers of this market for SEO site audit tools. This could be easily interpreted by their effective tools and strategy creation; they know their stuff and more about SEO than anyone else. They also allow the guest authors to portion out their knowledge and help the visitors of this blog.
HubSpot
This is one of the best-designed blogs to keep you updated with the latest news and breaks. One of the greatest things about this blog is the way it is written. You will find the information and articles in very colloquial tone and the content in very humanize form. This blog shares SEO advice, sales academy and web design content.

Read More: 31 Best Calls to Action Strategies 
Above blogs will help you with the SEO Marketing strategies. If you are looking for Digital marketing company in Virginia or SEO services in Washington DC, Contact Janbask Digital Design for the bespoke marketing services also offers web design and development services for your business
0
SEO