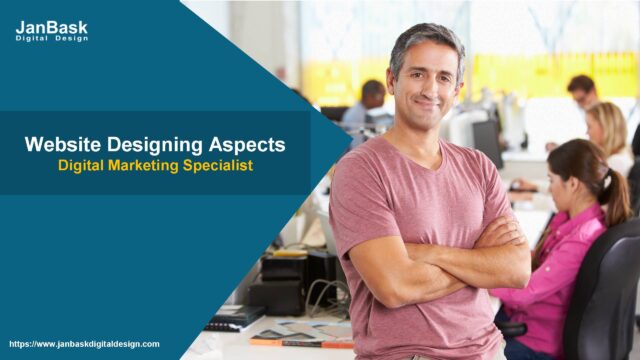 Hey, are you a digital media marketing personal or a business owner? It doesn't matter who you are but the important thing is that your business should have highly attractive and eye-catching website which can easily convince the targeted audience to avail your services. A business website should be effective structured all the website elements and well defined the business objective so that it can convert the huge quality traffic into your profitability.
As per the current trend, a website is the place or a medium where users can get all the information about the offered products or services. These information helps them in deciding whether to avail these services or not. In other words, we can say that a website is a medium of connecting the brand audience with the brand and indirectly force them to buy our products. In this blog, we are going to discuss the website design for the digital marketing specialist.
Digital Marketing, a boon for the ecommerce business which is also known as online business where products or services are sold using digital channels namely Internet. The popularity of digital marketing gets increased day by day thus large number of people make digital marketing as their career. As per the current scenario, there are several digital marketing professionals are available in the market. They are highly qualified and experienced in their field and provide result oriented services to their clients. In this bottle neck competition, these digital marketing specialists have to give more focus on their website design and placement of website elements like content, graphics, and more. Let's discuss the website designing aspects for the digital marketing professionals in details and how they can make their own place in the market.
Website Designing Aspect for the Digital Marketing Specialists
Implement Multi-ChannelsMedia Marketing Strategy
Multichannel marketing refers to the process where we provide different opportunities to our customers to complete the sale transaction through a retail store, their mobile, or business website. In this way, we can target large number of audience (mobile users) which can enhance our profitability and ROI.
Effective and EnticingWebsite Design
Website is the front face of the organization which directly interact with the brand audience thus it should be more enticing and striking to easily grab the attention of targeted audience and convince them to avail our services.
Effectively Present Website Elements to Attract Large Number of Audience
To attract brand audience enormously, we should take care about the website design as well as the placement of website elements like content and graphics. Website content should consist the list of quality keywords so that it is in easy reach of the search engine. Additionally, other website elements mainly graphics and web page's titles should also be placed right.
Website Design should Simple and Pleasant
Website design should be simple yet pleasing so that targeted audience can easily understand the ideas and information which we want to convey through our website. Simplicity is the best weapon or medium to attract people and convince them to avail our services.
Efficiently Utilize the White Space of the Website
While designing a website, we should efficiently utilize the white space of the website so that it should look more pleasant and easily grab the attention of people.
More Emphasis on the "Contact Us" page
The contact information of the business should be defined properly and clearly in front of the targeted audience so that if they want to contact us then they need not to navigate to several web pages to find the information.
0
Digital Marketing
Website Designing