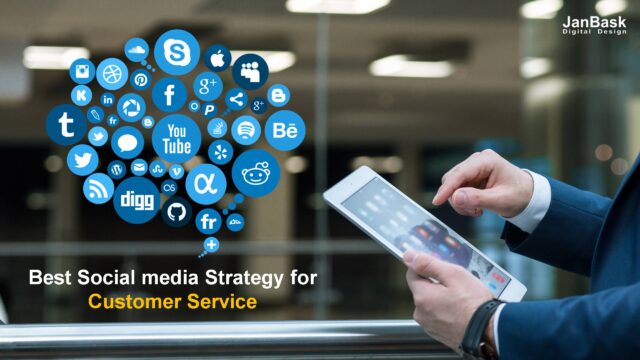 Social customer service is very much in trend and is great for building brand's positive image. It has become a common practice of providing consumer support over various social media channels like Facebook, Twitter, etc. to answer their queries quickly within no time as soon as possible. But don't you think that providing customer service by using social media platforms is the only way you can help them because they are not involved in this throughout the day. So you need to take care of many other factors when it comes to making appropriate social media strategy for providing fast customer service. Today, we will discuss a few tips that can help you in making a beneficial strategy for customer service through online platforms. So we will address the following topic under this piece of article.
Top 3 Practices to make best possible social media strategy for providing impeccable customer service.
I am sure you must have accounts on a handful of social media channels like Facebook, Twitter, etc. No wonder if you have because almost every next person is involved in online today and this is why even companies are taking help of these platforms to provide better customer service to their customers. Ultimately give a better experience with their brand.
This is the prime reason why the level of customer service expectations is increasing rapidly. People now expect that their queries should be answered within no time. Brands are also doing their best to create a seamless experience for their customers. 
Always be a good listener to what your customer is saying.
Be there where your audience is
Don't leave your customer in the middle
Let's dive into detail of top 3 strategy making tips.
1). Always be a good listener to what your customer is saying
Research has found that a major ratio of customers switches to social media platforms for seeking information about any service or product they are using.  They commonly take advice on online platforms. Most of the marketers are already aware about the commonly used social media tools that help to automate the process. The reason why we are saying that listening to every customer is equally important as that of solving their issues because we will understand their problem better only if we listen to them patiently. There are a lot of tools in the market that is used to search for brand names, services, help to search with the help of keywords, etc. It becomes essential to collect customer's detailed information in order to provide them better customer service. Small firms may require collecting more of it because it helps them in a revolutionary way within a short period of time.
Have a look at example attached below of how customer complained about his bad experience to Seamless and how he thanked them after getting immediate customer service.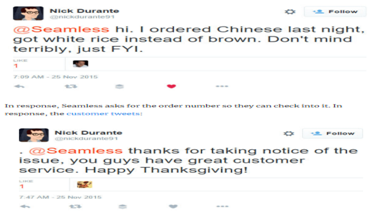 2). Be there where your audience is
This is really important when you are handling global customers. It is one of the very first challenges that you need to face for providing better customer service through social media platforms. It will help you to determine how to focus on different customers from the different geographical region. You may target to drive your customers to one platform where one of your customer service team has always been there for responding customer's queries. For most of the brands, social media platforms like  Facebook and Twitter are always given the primary focus for providing appropriate social care to their customers and this is also a great way to attract many potential customers as other can also see how you are responding to your customer's queries.
Be present wherever your audience is socializing. Due to this, you will be able to know what your customer is looking for and if he/she has any kind of query, you can respond them quickly.
So, make sure you mark your presence in a bold way wherever your customer is socializing so that they can directly ask you with their questions. You can socialize by commenting in common and relevant forums and can also invite existing customers to give comments.
Have a look how you can invite people for more queries just like Contextly.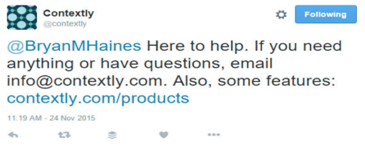 It is also possible that the social media platform that is helpful for one business may not be beneficial for other. So take steps according to your business.
3). Don't leave your customer in the middle.
This can be the worst thing to do with any customer. Be it your customer or any other user that is asking any query; never ever leave your customer in between. Read or listen to their query first and let them know how much time you can resolve their problems. If you have committed to resolve their issue within the same day, then adhere to your statement. Managing multiple pages can make your head spin, so you can avoid this hassled situation by redirecting your customer to one particular customer service page and resolve their query there. Set criteria for yourself that will help you manage all queries effectively. You can also segregate customer's problem to certain criteria like a safety issue, product quality, etc.
Remember- Stand to your commitment to solving their problem in a particular time limit. Don't make them wait unnecessary by making them wait for your response. This can destroy your brand's image.
Conclusion
We discussed what you can do to provide an impeccable customer service through social media platforms. These tips have helped many businesses in making effective strategies for providing better customer service with help of online platforms. Visit: https://www.janbaskdigitaldesign.com
1
Social Media