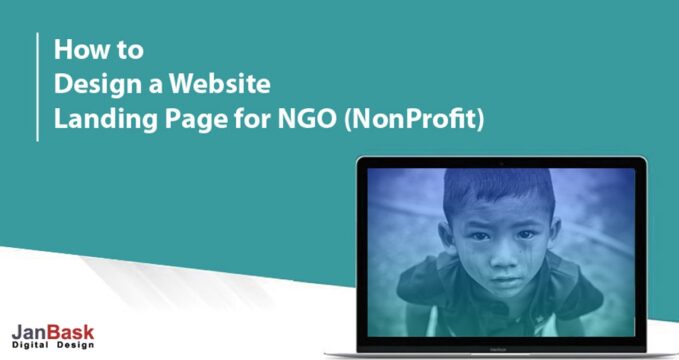 As we already know the main motive of designing a non- profit website is to draw attention towards a cause. Once done properly, it would become the most powerful tool to grow your organization online. The website landing page of non- profit organization is somewhat similar to the website of small business but the only difference is their designs need to feel more humane.
There are a number of business trends available today that can be applied to other businesses as well. But the difference is, Non-profits arouse levels of trust and camaraderie, thus offering a more endearing quality. Let's look over to the topic we are going to discuss today, i.e.
Techniques to designing a website Landing page for NGO
Heavily Customized Layouts
Charts, Data & Relevant Information
Mixed Promotional Media
Accessible Content Structure
Ubiquitous Branding
Let us discuss them in detail:
1). Heavily Customized Layouts: 
The custom interface requires much creativity and uniqueness. These two things are the best tools to promote your brand and its cause. But one point you must note down that all customized layouts are not same. To make a design look more innovative, you can use beautifully crafted graphics, animated effects and horizontal parallax scrolling.
2). Charts, Data & Relevant Information:
This trend is of no use if a company is not using these metrics in its profile. This is one of the most powerful ways to grab attention and to tell the story in the most unique way. You can fascinate about past energy spills and leaks with dynamic bubbles of contextual information. In addition, you can even hover the map to gather more information about a particular event. People love to read information that is accessible and most convenient. For example: You can add a map of impoverished areas that are given all profit donations lower on the page.
3). Mixed Promotional Media:
Media is the most convenient and fruitful way to sell an idea. In a shorter window of time, Photos and videos convey much more information than text. You can use mixed photos and videos into a grid structure. Also, use photos that evoke a certain mood or feeling that resonates with the company. Professional photos leave never lasting impression on the minds of people. So it is worth taking solely for the website. Use a photo carousel, article thumbnails, or even background photos in parts of the layout, as people notice professional quality when they see it.
Furthermore, you can attach a top scrolling feature that moves between different subjects that link out to articles and video presentations. If you are running out of beautiful graphics and icons, then photos is not at all a bad idea to add life to the website.
Add one more idea in the list that is adding full video presentations where it fits appropriate.  Go for a video mash-up explaining what a non-profit does without using text. It offers a peek into charitable functions and goals. For example: You can put a looping video in the background with a CTA button to get people signing up or donating to the cause. Also, you can add more photos and graphics that explain the goals of your non- profit NGO lower on the page.
4). Accessible Content Structure:
Fonts and content organization is the main key in every website. The content structure is the most important for non- profits as it is the only thing that explains each and every bit of their motto, to show people what they do and how they do it. But it does not mean that content should be written in a rigid or stiff way. You can indulge innovative graphic design with it rather than going with traditional interface design.
To build anticipation from one area to the next, keep on experimenting with different column styles and orders of content. You can even split contents into easily-definable areas for the ease. Also, make sure that the homepage should be a bit colorful than the other internal pages as it is responsible for the website's first impression.
5). Ubiquitous Branding:
we all are aware of the fact that a non-profitable need as much good PR as possible. A recognizable brand can make a huge difference between huge success and failure. To achieve this, it needs to work and function properly.
Try to mix branding into the equation. It means to let the customers get to know more about your organization through the company's logo, colors, textures, graphics, and other design aesthetics. Hire a well experienced graphic designer that is well efficient and could easily take Icons, patterns, colors, and typography styles and extrapolate them onto a poster, billboard, or any other type of advertising material. Put the colors and fonts visually match up together in all areas.
Time to sum up:
So, these were certain these that will create an outstanding layout for any non- profit organizations. Improving these tactics, you can easily increase your visual library and can get more recognition from the audience. Don't think much, start working today!
0
Website Designing