Ever asked the business owner or a marker the most important term of their life? Yes! It is the customer, more and more. Everyone knows that traffic is the lifeblood of any online business. Despite the fact that targeted traffic is so important, when most people log into Google Analytics, and what they see are flat graphs like this: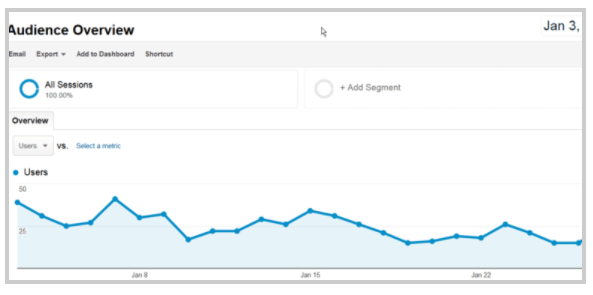 There are quite a number of ways by which you can build the traffic on your website and now, we're going to look at some of them.
Generate traffic and convert the traffic into customers.
How to make the audience, revisit your website.
Generate traffic and convert that traffic into customers
You see, there's a lot of content out there about how to increase website traffic, old and new. We provide you now a proven system, implementing them in your website right now, will undoubtedly increase the height of reach of your website traffic in a matter of weeks (or even less). It is really not that difficult to increase website traffic, if you have the right system handy.
Rule #1 : Publish the RIGHT CONTENT.
This is the foundation of the system. If you truly want to increase website traffic, you have to make sure your website content is optimized first. Otherwise, the traffic will be only for a temporary period of time.
What is The Right Content?The Right Content comprises of:
Content that generates traffic, leads and (most importantly) sales.
Content that gets you traffic from Google.
Content that establishes YOU as an expert (and someone people want to buy from).
In other words, rock solid content that you can build a business on top of.
Use the information that matters to the audience. To create content that appeals to the influences, finding out who they are is very important.

A simple example from Steve Kamb at NerdFitness that attracts links from influential health and fitness bloggers with ease and brings in thousands of shares on social media.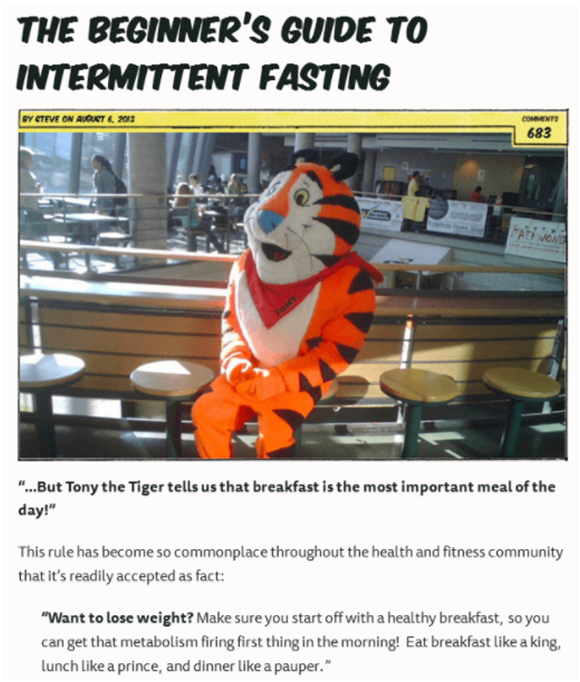 Rule #2: Get it on with social media
Share Your Content the Right Way. In terms of how to get traffic to your website, social media is the next big key. You need to make sure you share your content the right way so that you get the highest increase in traffic.
Let us now see some tips for sharing the content so that you get the most engagement, shares, and traffic:
Tip #1: Optimize for each of your platforms
Remember, social media posts appear differently on different platforms. So, you need to optimize your posts so that each can be eye-catching and shareable.
Tip #2: Have a schedule for sharing
How often are you sharing content on social media? That's where a sharing schedule comes into play. This schedule helps keep you organized, so you're not over-sharing or under-sharing your content.
Your schedule should answer the following questions:
Which social messages are sent immediately after publishing content? For which platforms?
Which messages are sent the next day?
Which messages are sent in a month?
With a consistent schedule, you won't have to scramble every time you post new content. You'll know exactly which platforms to post on and when to post.
Tip #3: Avoid being a Spam
If a post doesn't pick up steam the first time you share it, don't try to keep reposting it the same way, This is spammy behavior and will turn your audience away if you keep doing it.Instead, aim for a good mix of social media content – share blog posts and videos, as well as content from other influencers, and also share other interesting and value-adding statuses.
Tip #4: Add sharing buttons to your website
It is important to share your content the right way. An added bonus is if you can get your audience to share it straight from your website. For that, you need some easy social sharing buttons. There are plenty of free social media share buttons on WordPress. Select the one you like best, and place the share buttons directly below your articles.
Tip #5: Post during peak hours
Keep educated with the best times to post to the biggest social media platforms:
Facebook: Saturdays and Sundays between 12:00 – 1:00 p.m.; Wednesdays between 3:00 – 4:00 p.m.; Thursdays and Fridays between 1:00 – 4:00 p.m.
Twitter: Mondays through Fridays between 12:00 – 3:00 p.m.; Wednesdays between 5:00 – 6:00 p.m.
LinkedIn: Tuesdays, Wednesdays, and Thursdays at: 7:30 – 8:30 a.m., 12:00 p.m., and 5:00 – 6:00 p.m. Plus, Tuesdays between 10:00 – 11:00 a.m.
Pinterest: Every evening hours and 2:00 – 4:00 p.m.; Fridays at 5:00 p.m.; Saturdays from 8:00 – 11:00 p.m.
Instagram: Monday to Thursday anytime, except between 3:00 – 4:00 p.m.
Rule #3: Learn the art of content outreach
It is good to get your content republished, but it is mandatory to write 2-3 guest posts a month (or more, if possible). Guest posting helps improve your SEO rank, and it also introduces your content to new audiences.
Now, when it comes to guest posting, the outreach email is very important. But we have an outreach strategy that works well, and we recommend you try it out.
Here's the basic format:
Introduce yourself and explain that you're a huge fan of their work. Reference something you learned from a specific blog post, ideally one that is a few months old.
Explain aside from thanking them for the awesome content, you're also reaching out because you're interested in writing a guest post for them. Tell them you have 4 ideas you think their audience would love based on some of their most popular articles.
Explain that you know they're busy, and that you can write everything up and sent it in one Word document. Also explain that you'll handle all the editing as well, so it's all super easy for them.
Close it out by promising that it will be engaging content that their audience will love, and asking, "What do you think?
Sign off with your name and website URL
How to make the audience, revisit your website.
The driving of high-quality traffic to our website is understood by all of us. For this reason, constantly monitoring sites and the quality of the website visitors is a must. Let us seek to make sure that the campaigns are set up correctly by reviewing the websites, how to maintain a personal relationship with each of our customers.
Tip #1: Be in constant contact
Businesses are focused on attracting customers through content marketing that they forget implementing traditional methods. Email marketing is traditional yet a powerful tool and even a moderately successful email blast can result in a significant uptick in traffic. Just be careful not to bombard people with relentless emails about every single update in your business.
One of the oldest marketing tool options is constant contact. They've been around and popular for a reason, they connect emotionally.
If you are looking for simple automation, Constant Contact can help you there, too. Try to deliver few nice follow-up messages simply and easily.
As shown in the example of Halfmoon yoga studio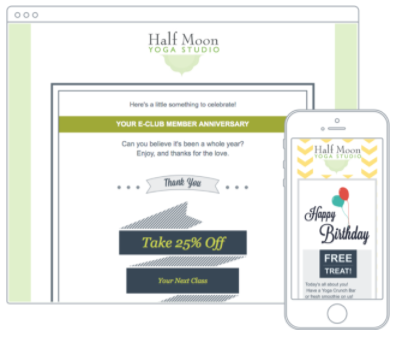 Tip #2 : Eye catching templates
As said in the tagline of CampaignMonitor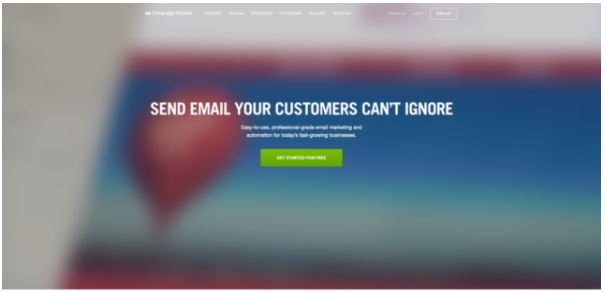 Tip #3 : Have the ingredients mixed
The Magic formula for content marketing success doesn't exist, though some would have you believe. For this reason, vary the format and length of the content to make it as appealing as possible to different kinds of readers
Tip #4: Tell them what is New and Popular
Give an easy way to your visitors to turn back.If you have new contents to offer on a regular basis and highlighting your greatest hits will keep repeating the engagement.
Tip #5: Make sure your site doesn't make the visitors wait
Will you ever make yourself wait thirty seconds for a webpage to load? Same applies to your visitors too. If your site takes forever to load, your bounce rate will be very high. Make sure that your pages are optimized as much as possible, check image file sizes, page structure and the functionality of third-party plugins if any. The faster your site loads, the better it engages the visitors.
Tip #5: Start guest blogging
The blog traffic can be increased, by securing a guest post on a reputable site to your website and help build your brand into the bargain. Though the standards for guest blogging have changed during the past few months, and spammy tactics could result in hard penalties, proceed only with caution.
Know that the guest blogging is a two-way street. In addition to posting content to other blogs, invite people in your niche to blog on your own site too. Blogging by others on your site is likely to get more share and link to their guest article, which could bring new readers to your site. Just be sure that you post original content with high-quality, and no spammy links allowed, because Google is cracking way down on low-quality guest blogging.
Tip #6: Go for referral traffic
Create content that just compels to be linked to, rather than trying to persuade other sites to link back to you, which is a tedious and time-intensive process for all.
Tip #7: Post the Contents to LinkedIn
LinkedIn is not just a mean of finding a job, but has become much more than that. Now the world's largest professional social network is a valuable publishing platform. You should be posting content to LinkedIn on a regular basis. Doing so can boost traffic to your site,especially if you have a moderate to large following as well as it increases your profile within your industry.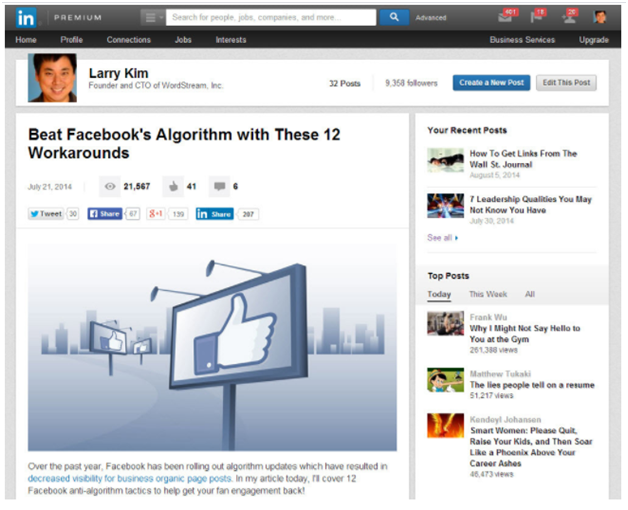 Tip #8 : Interview industry based leaders
Once you enter the field, you will be amazed to see how many people will be willing to talk to you if you just ask them. Request an interview to thought leaders in your industry, and publish the interviews on your blog. The recognition of other leaders boosts your site credibility and help to increase the traffic to your website, also the interviewee might share the content too, further expanding its reach. Just go for it.
Summing up
Keeping the audience engaged and bringing them back to your sites is not difficult if the steps are followed systematically. Just keep the smart works high.
Come up with more ideas to keep your visitors on your page, a little longer, without getting bored.