Businesses all over the world realize the importance of the internet. It is capable of skyrocketing the demand for the products and establishing the brand in the market. Something that took ages not very long ago.
Most businesses these days don't have the financial resources like most. But a strong online presence can do wonders. It can enable the business to compete with other organizations with better resources. Resources are no longer the deciding factor in the war to dominate the market. The organization with better web capabilities is bound to do better.
And so it is recommended for companies in their infancy to focus more on their digital presence.
1. An Overview of Web Development Companies
Web Development Companies are organizations that specialize in work related to the digital world, website designing, their look and feel, their content, etc. Most of these companies have considerable experience in the industry. These companies probably know shortcuts to the long routes that you may have otherwise taken. Remember in the age of the internet hard work pays off but smart pays even more. Here is a blog that will shed light on why new businesses are in need of web development companies.
Millions of businesses are trying to plant a foot in the market and you have to compete with all of them. In such circumstances, when you have to manage the business as well as the online presence. It can be very hard to manage anything properly. So it is recommended to employ the assistance of web development companies
2. Why do you need to hire a Web Development company in the first place and what can it do?
It is no secret that the internet is very tricky. You can have success at your reach and yet feel its too far. It's like an ocean where you can see the land but even after sailing for days you may never reach it. Many have fallen victim and perished to this unforgiving ocean. Just because they did not know how to navigate it. Here are some reasons you need a web development company and why you should at least consider employing a reputed web development company at the nascent stage of your business.
2.1 Website is a must
Let us look at it this way. Why are you creating a website? Is it because everyone else has it or do you have a specific vision for it? It would be best if it is the latter, if not find a vision for your website.
Ask yourself this, why does your organization need a website? What purpose does a website resolve? And most importantly, How will the website help you grow your business? Do not be shy to look into other organization's objectives and models for inspiration.
Once you have an idea about why you need a website, it is time to set some objectives of your own. What is the purpose of the website? What do you hope to accomplish?
You may think these questions are irrelevant to designing a website. However, it is not. As the answers to these questions are what will structure your web design. Help in creating a custom web development.
2.2 Enables Online Marketing
The internet is full of opportunities. It can target thousands of interested customers at once. Customizing the entire campaign to be more successful. Having professionals working on your online presence enables another option of online marketing for you.
There are thousands of channels where you can advertise and possibly sell your product.

The social media platforms are just one example.

These are platforms where the organization can find huge success if they can capture the audience.

Online stores and blogs are some other examples.

The online media can extend your reach exponentially.
However, it all depends on the content that you are posting. Without a proper professional behind the wheel. No online presence can be useful to any organization. A professional knows what is the shortest route to success and how can your content be more desirable.
2.3 Customer-support vs Customer-experience
You may think that customer-support and customer-experience are the same things but it is not. They can be two sides of the same coin but not the same sides. To understand what we mean by that, try to understand a simple fact.
With the age of the internet, you are no longer just selling a product. Rather you are selling the entire process of purchasing a product. What it means is sure customers want the product. But they also want to enjoy the process of buying the product. Sometimes people like the process so much that they end up buying a product they don't need.
So while customer-support is there to help the customer find their way around and collect feedback. customer-experience works more on the feedback gathered by customer-support. It is a process of making the process of purchasing more fun and interesting for the customer.
A middle ground between both the departments is the one that involves chatbots on the website.

These are preprogrammed virtual assistants that are sort of an entire customer relationship department on its own.

Adding a chatbot on the website makes your website look more advanced and helps you save a lot of effort in dealing with the customers.
The bots are pre-programed with certain questions and answers to resolve the basic queries or frequently asked questions form the customer. Allowing you to focus on the more pressing matter than putting out small fires.
This way you can shift your focus and not make your customers feel ignored. Most customers feel that their complaints are not being heard and leave. They don't understand that there are much-pressing matters to resolve rather than a simple case of ignorance.
However, for the business, every customer is important and that is why chatbots are so handy. With the current trends, chatbots are going to be more of a necessity than an option in the future. So better get ahead and get a jump on the technology before it gets too late.
2.4 Mobile friendly
Believe it or not, most of your customers use their smartphones to access your website. In fact, according to a recent survey. On average, a person living in urban cities spend at least 1 hour of the day staring at their smartphone screens. But if you pay attention to your surroundings you would know that it is more than one hour in many areas.
With the demand for mobile friend content. You certainly cannot hope to get away with an unresponsive design, that stretches weirdly whenever accessed on unfamiliar devices.
There are many ways to make your website responsive to other devices.
The website should be adaptive to these devices to enhance the user experience on them.

You can check how mobile-friendly your website is with google.

Simply type in mobile-friendly in your google search bar and press enter.

The first option google provides is the one you need to choose.

After that, you need to enter the URL of your website and press enter.

Google will give you a comprehensive report of if your website is mobile-friendly or not.

If not it will also provide recommendations that you can follow to make your website more friendly.
No matter which method of testing you choose it is important to acknowledge the trends of the market and right now it is smartphones. You cannot bury your head in the sand and hope to find success. You need to make the website in such a way that it improves the user experience on the mobile phone.
2.5 Effective Search Engine Optimization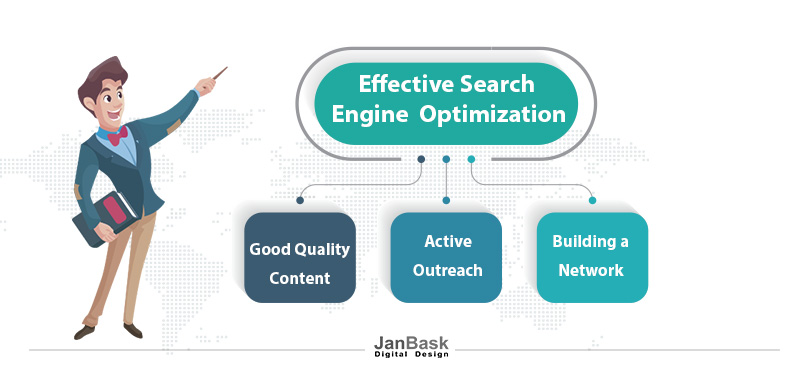 The clients rushing in to avail your product without you making any efforts, wouldn't that be a dream. But the dream is not that far fetched. The technology we have today works like a magic charm. Organic marketing or Inbound marketing or even content marketing.No matter what you call it. Search engine optimization is the future of Business.
SEO management is the most effective way to build up an audience. Build links and close clients. More than half the clients admit that they purchased the product and found out about the company from a generic search of the product.
However, with such an overcrowded market, it is hard to be found. So here is an insight. The three main principles that are essential for succeed are
Good quality content
Active outreach
Building a network
The above three, require diligent work, a separate team even a separate budget dedicated to the cause exponentially increases the potency of the marketing campaign. This is why you need web development companies by your side to optimize your digital presence.
The algorithm of the search engine that suggests the best possible matches to the client, associating the website with the words that are searched.
The keywords are very important for SEO to work. This requires the following
Identification of Keywords
The words with which you want to associate your business with must be clear and precise. You want the client to land directly onto your site before anyone else. It is very little to no margin of error.
A Healthy occurrence of the said keywords in the content
Once the keywords are identified, the words must occur once or twice in the articles. This is important because the Search engine will associate the keyword to your content.
Associating related words relevant to the search
Apart from the keywords, the client may use different words to identify your services. Make sure you are ready for any surprises.
The words with which you want to associate your business with must be clear and precise. You want the client to land directly onto your site before anyone else.
Despite the growing traffic on the SEO highway, there are still shortcuts to reach the desired destination and beyond. SEO is one of the best techniques for B2B marketing. It helps your services and promotes the brand name. Just keep in mind the following
Keep building a network for your audience.
Try and answer potential queries clients may have regarding the services.
2.6 Give your audience a reason to come back
Even magic requires some effort and so does technology. With better planning and adequate resources, businesses can attract customers to their doorstep rather than the sales team hovering around there's. Despite all its criticisms, SEO still works because it depends on the connection you have with your clients.
Its fundamental quality of reliance on the fact that you care for your customers and readily invest in the fulfillment of their requirements. A kind of investment that never goes unrewarded. SEO is a tool with a wide scope of functionality. Undermining the capacity of the technique may cost the business more than just money.
2.7 Saves Cost Saves time
ow, consider doing all of the above on your own. Considering you have a company to run and products to sell. The task can stretch you pretty thin. Making you vulnerable to mistakes.
Believe or not hiring someone to handle your web development is much more cost-efficient than you might think. You get more time to work on the organizational aspect of the business rather than worrying about what's going on online. It is a very simple way to delegate tasks and organize the functions of the business.
2.8 Measurable results
As a starting business, you need to have measurable results. Why? You ask because you need to know what went wrong or what is working for the business. Applying the same formula you can positively work the theory and progress in a positive way.
Web development not only means managing your online presence but also helps you get an insight into the presence. Advance web development specializes in finding out exactly what is working for the business. Which products are getting the most attention and what pages are the customers clicking the most. Having such data may help you to formulate a plan that can help you gain success.
Measurable results are very important to have so that they can be compared with the planned results. Helping you find the exact trajectory of your business.
2.9 New and innovative ideas
There is no shortage of ideas when it comes to web development. Heck anyone who has never known coding can give you great ideas about it. But the main problem lies in the implementation of the ideas. Very often we might have a revolutionary idea which allegedly no one has ever thought of. But that is not the case. It was thought of but did not come to pass because it was not fissile.
A web development company can make things happen. Even if not they can get you as close as it can get. To make anything possible with computers you need to speak their language. Unless you are a coder or a developer yourself. We highly recommend getting professional help.
The fact of the matter is. Initially, you need to establish yourself in the market and you cannot do that with half baked ideas. No online presence is better than a flawed one. As if you don't have an online presence at least you have a chance of creating one. But a flawed one will sully your name forever. So it is recommended that you get professional help.
3. In the end
No one wants amateur work when it comes to business. The market is all about creating an image and it can easily be sullied by sloppy work. When you get professionals. You have an assurance of quality.
To be successful, most organizations hire web development teams to establish them in the market. It helps them build a solid foundation and increases the chances of survival in the market. Hence we recommend you find someone to sort out the online business for your organization. Hire a web development company and start your digital journey in the right way.