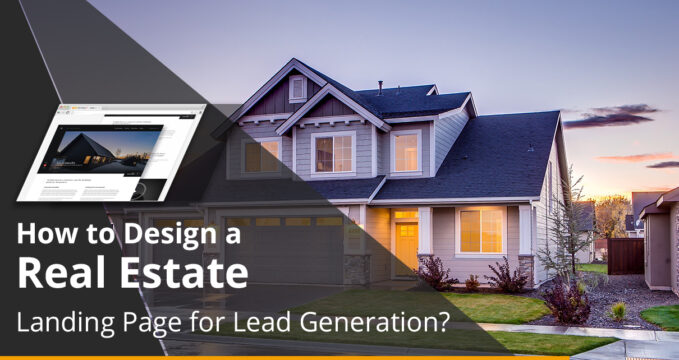 A landing page is that gateway of your website that will decide if the visitor of your website will decide to navigate your site further and open the further pages or links given thereof or not. This very page is like the mascot of your website. You really need to see it as the platform to showcase the dexterity of your website to the guest or the visitor. A landing page is like a short summary of your main website and it needs to be very attractive. The main role of a landing page is to generate traffic and increase leads for your brand. If it is not doing these two things trust me it is a problem.
Many times I wonder what the people can engage in real-estate business do to ensure that their brand emerges against the numerous other online realtors or brands when those in-need people are looking. A standout amongst the most basic things is to guarantee that you have an incredibly good landing page. Today we would discuss as to how to Design a Landing Page for Real Estate Lead Generation.
Topics that would be covered in this blog are-
What is a Real-Estate Landing Page?
Why Do You Need a Real-Estate Landing Page?

It takes care of your offline promotions too.
Better Pitching of Business
Increased Partial Leads

Different Types of Real-Estate Landing Pages

Home Value Landing Pages
Free Content Landing Page
Home Search Landing Pages

Tips to Design Real Estate Landing Page for Learn Generation

Keep Your Lead Capture Forms & Search Tools Simple
Use Attractive Images
Be Fully Transparent In Your Copy
Catchy CTA
Create a Responsive Web-Design 
What is a Real-Estate Landing Page?
Real estate landing pages, some of the times called as real estate squeeze pages, are basic single pages on your site that you link to your real estate promotions on Facebook, Google, Pinterest, or some other site. When they tap on your ads, they essentially "land" on your landing page. Once there, landing pages have one and only one role to perform and that is to get that visitor to give you their contact data.
Since they have only one area to be focused on, real-estate landing pages by and large just have short, direct copy, a couple of pictures, and a contact frame where your site visitors can leave their contact data.
Acing the craft of designing immaculate real-estate landing pages is rapidly turning into an essential aptitude for Realtors in 2018. Therefore it is becoming very important for realtors to hire web designing services or consultants to weave catchy landing pages for their businesses.
Why Do You Need a Real-Estate Landing Page?
Until and unless you understand the need of the crafty landing page for your real-estate business, it would be difficult for you to realize its importance. Therefore we have listed down a few compelling reasons because of which you need a Real-estate landing page.
1). It takes care of your offline promotions too.
While the landing pages work awesomely well for getting contact data from leads who tap on your online advertisements, you can likewise connect to them from your web-based social media accounts with the QR codes on your yard signs, postcards, announcements, or flyers. This is an incredible method to utilize innovation to track what number of individuals is going over your site from your offline advertising procedures.
2). Better Pitching of Business
Since landing pages are particularly intended to get contact data, you're considerably more likely to receive that from a landing page. Consider it, in the event that you send a lead right to your website's homepage, they may click around, get distracted by something, and may never return. From the contact information that you get from these landing pages, you are likely to close more deals and deal with the client in more one to one manner.
3). Increased Partial Leads
While just getting an address or email may not be perfect, the landing pages enable you to settle on how much or how little data your leads are permitted to leave for you to follow up on. As you may envision, it's a whole lot simpler to get less data than asking for much details. Try not to sweat it, however. You can take a partial lead that just gave you their address for a free home valuation and adds them to your postcard or door holder type campaigns.
Different Types of Real-Estate Landing Pages 
There are three types of Real-Estate landing pages that are popular-
1). Home Value Landing Pages
Home value landing pages are the most well-known sort of landing pages that Realtors use in 2018 to get vender leads. Here's the way they work: A Realtor sets up an advertisement focusing on individuals prone to move or put their home for sale on Facebook. As a rule, the promotion will offer them a free home valuation so they can discover how much their house is worth in the present market. At the point when a potential lead taps on that advertisement, they wind up on a home value landing page. There are two sorts of home value landing pages.
Instant Home Value Landing Pages
CMA Offer Landing Pages
2). Free Content Landing Page
Free content landing pages are land points of arrival that offer potential leads something free in return for their contact information. In the realm of advanced showcasing this is known as a lead magnet, as the offer of something free attracts the leads.
While free content landing pages ought to have a generally high transformation rate, there is a threat that the leads you wind up with will be too high in the lead funnel to be utilized quickly. While these leads aren't as alluring as motivated purchasers or dealers, they can be effectively sustained with drip campaigns.
3). Home Search Landing Pages
Home search landing pages are awesome on the grounds that you don't even truly require a landing page; to begin with, you can simply utilize your website's homepage as your landing page. A potential lead taps on your advertisement offering a free listing search. They at that point click onto your home search landing page. All things considered, "landing page" isn't actually right here, as these sites are for the most part completely fledged IDX sites that enable leads to look for homes and save their top picks. Following a couple of minutes of searching, they are urged to leave their contact data to keep utilizing the site.
Tips to Design Real Estate Landing Page for Learn Generation 
1). Keep Your Lead Capture Forms & Search Tools Simple
Straightforwardness is the key with regards to your landing page and this goes for everything from the symbolism to the copy to the CTA's and search functionality too
At the point when individuals are starting the way towards purchasing or offering property, they would prefer not to peruse a book of fine-print content. Regardless of whether you're endeavoring to produce leads through an email authority framework or just have your visitors scan for properties through your landing page, ensure that your copy and web-design is straightforward, pertinent, and to the point.
2). Use Attractive Images
Use bright visuals to attract customers. Put up beautiful pictures related to the industry. Throw in some statistics and colorful graphs to understand them. Mention about testimonials from your past customers.
Bright imagery is unquestionably the way to outlining a high-converting real-estate landing greeting page since individuals frequently act with their eyes. Quality pictures won't simply interest your visitors; they will inspire feeling, which regularly leads to action too.
3). Be Fully Transparent In Your Copy
Picking up the trust of your leads to transform them into clients isn't a simple accomplishment because of elevated levels of rivalry, the speculation that accompanies real-estate industry and the way that the choice of purchasing or offering a house is likely going to affect such person's life in a huge way. In this way, the most basic thing is, by and large, to be completely straightforward with your content and including every little bit of information like area, extra expenses, exact area, number of rooms, showers, parking spaces, and so forth. Try not to let go of the critical inquiries unanswered, and keep your content basic, yet receptive.
4). Catchy CTA
Try not to stress over influencing your landing page look beautiful. Indeed, you need something that looks proficient, yet proficient aren't generally beautiful. Truth be told, every now and then "bad looking" landing pages are able to convert far better than the beautiful ones. While this may appear to be somewhat absurd to a certain degree, it bodes well when you consider it. Individuals need to work with somebody they can trust.
5). Create a Responsive Web-Design
In website architecture, a page is "responsive" when it looks great on personal computers and cell phones. As you may have speculated, you have to endeavor to ensure your landing page looks awesome on mobile phones as well as desktops. You may need to make two separate pages or optimize your current page for multi-purpose uses such as a tab, cell-phones etc.
Conclusion
Real-estate industry is very infamous due to many reasons. One of the main reasons is because people think about it very deeply. You never know what one has to sacrifice in order to see his dream house become a reality. People think thousand times before investing their money anywhere in real-estate. Don't give them a hard time with their investment. Come up with an honest, true and trustworthy landing page that take them away from all their worries and leave you with a good client.
0
Digital Marketing
Website Designing