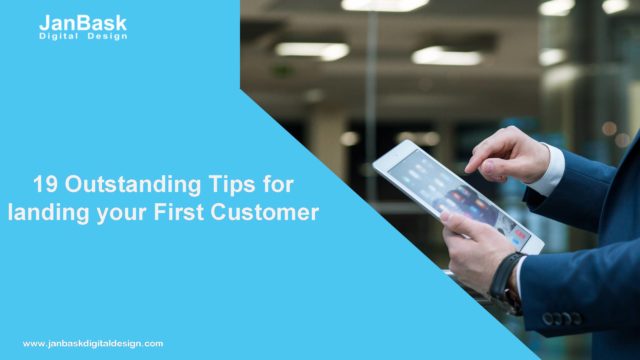 People at some point of time think about quitting their job and starting business on their own. But you cannot gauge your success from this simple thought. It takes exceptional managerial abilities to get the first customer for your business which is not as easy as it seems. Simply starting a business without any knowledge of sales or marketing fundamentals can lead you to loss rather than profit.
Let's take a detailed look in to some of the best tips that can help you land first few customers for your business.
Keep stock of initial operating expenses
As a start-up business, you should have enough resources required for initial operating expenses for atleast the first 6 months once you begin your business. This is the time when you are searching for clients and also undergoing an initial phase of gaining profit from your business. Without adequate resources including money in hand, the chances of success are very less. Having enough resources at hand can help you in convincing a customer for having business with you.
Word of Mouth Campaign
Word of mouth campaign is still considered as the best way to attract your first customer. Tell about your product to your friends, colleagues and family members and request them to spread the word about your product to people whom they know. It is highly likely that you will land your first customer through this traditional method of word of mouth campaign.
Collaborate with business community
Take your time to visit nearby business events taking place which would help you gain immense knowledge about the current business trends. It also helps you substantially increase your relationship with other members within the business community whom you meet during such events. They can be of help in landing your first customer.
Go Social Online
Social networking websites such as Facebook, Google+, Twitter and LinkedIn etc offers enhanced opportunities for you to connect specifically with communities who might be interested with the type of products or services your brand is associated with. It is desirable to publish effective blog posts that are related with your business so as to attract more visitors towards your blog post and thereby enhance traffic towards your website ultimately leading to landing your first customer.
Landing first customer through online advertising
For a start-up company, online advertising is one of the most cost-effective options for landing their first customer. More customers are purchasing products from online ecommerce stores than ever before. Posting online advertisements about your brand products can easily help you land your first customer.
Get in touch with everyone you know
It is good to send emails to everyone whom you know so as to make them aware about your business. However getting engaged in discussions with those whom you think really matters your business is very essential. Instead of asking them to have business with your company, you can better ask for suggestions regarding how they can help you out by introducing new clients for your business or about what is required to run your business smoothly.
Website Optimization
Optimizing your brand website is very important in getting leads for your business. Even though it might take several months of SEO in making your website visible among site visitors, at certain instances it can happen quite quickly. Ensure your website is updated continuously according to the latest trends and evolving needs.
Create a waiting list
By creating a waiting list, businesses are able to create hype about the product to be highly-sought after by customers and the demand for the product to be increasing day by day. A prospect tends to find a place as early as possible in the waiting list for purchasing the product. Even providing incentives for users such as opening up a free account for three month duration can increase the number of users willing to sign-up for your product.
Coordinate with your competitors
If you see every competitor as a rival, then it would prove to be very difficult to enhance your business prospects. Instead it is better for you to reach out to them and we never know whether they will outsource a part of their business to you, especially during circumstances wherein your competitors might not be able to handle the tasks due to lack of resources. It would rather help you both gain mutual benefits from each other.
Convince Bloggers
Bloggers have a huge audience and most of the audience trust them very much. If you can request them to review your product and publish a blog post in their blog website, then you are more likely to generate a large number of new prospects. If the review being published by the blogger is well-written and descriptive, then it can drive sales for your products in the years to come as website visitors would be able to easily identify the blog post about your brand product or services in the search results or blog website itself.
Coordinate with your first customers
First customers are very important since they can determine the success or failure of a product. You can simply learn a lot from your first customers. So try to coordinate with them and understand the key aspects of your products they are impressed with and also the drawbacks of your product. The first few customers of your product can share some great insights about your product features and they also have the potential to express opinion about your product to other prospects.
Content Marketing to acquire new customers
Acquire your first customer with content marketing. Informative and relevant content are sure to drive visitors towards your website and are likely to create better leads for your brand product or services. The same articles would be displayed in the search results within the search engines for many years and thereby attracting hundreds and thousands of customers towards your business.
Create Excitement before product launch
Releasing fewer details among the customers before the product launch is an excellent way of generating excitement among them. Fewer details about the upcoming product can be revealed one at a time, thereby making people more curious about your product. Thus you can make your first sale easily than expected.
Encourage customers to sell your product
It is among the best ways you can improve the sales of your product online. Give a free option for your customers in which you would offer a free upgrade to the premium option for one to three months as an incentive for referring your products to other customers whom they know.
Affiliate marketing for better sales
Affiliate marketing is among the best ways to promote your product effectively. In affiliate marketing, other websites would be promoting your products and you will have to give a small commission to them whenever a sale is made through affiliate marketing.
Check the performance of your landing page
Landing page of your website matters a lot in generating sales for your business. Try optimizing your website and check which of the landing page is leading to more customers for your product. There are several factors that can affect the conversion rates including the design of the website and the quality of content etc.
Offer the products for free
Giving away products for free initially is a very great idea to attract users towards your brand. You will never have a delay in landing the first customer for your product, since a product for free allows customers to try your product without any risk as they are not spending any money for your product. However you will have to ensure you do not give away all the key features of your product for free and place an 'upgrade' option up on which users will have to pay for your product for enjoying premium features.
Research for marketing-related decisions
There is a greater need for start-up businesses to do thorough research about their potential audience before going ahead with any marketing-related decisions. The research can happen in several ways such as interviews, online research or it can be from the experience you gained working in a specific industry. Surveys and even having interaction with clients can give you an insight regarding the type of audience that might be suitable for your business. This helps you provide personalized services to those customers who are more likely to purchase your product.
Participate in Conferences
Participating in conferences and giving seminars on topics related to your niche or industry can help you get a faster exposure and new customers for your start-up business. It is also an opportunity to prove your expertise on the start-up business you have began by presenting the benefits to the audiences and other businesses that participate in the conferences. People who have a passion towards the topic on which the conference is going on can be the best customers you can convince at the earliest. They would be willing to listen on the product features and its advantages and thereby becoming the first customer to buy your products.
JanBask Digital Design is a renowned Digital Marketing Agency in Virginia, that helps your increase visitors. Company also specializes in ecommerce web design, ecommerce web development, mobile app development and many more. Visit site for more details
0
Web Development