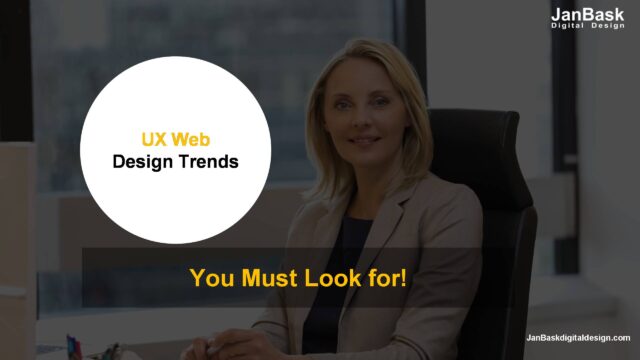 Online business majorly depends on user-experience. Aesthetics of websites are important, but user-experience is the best factor to create the positive first experience for customers. Be it be any business, if you are doing anything over the internet, then you have to give high importance to user-experience. We are saying this because a business can flourish rapidly only if the user feels great about it. Hence, making a web design that is highly appealing to customers and satisfies their needs should be the main goal of any business.
To make our readers understand more about UX, web design, we will discuss few essential topics listed below:
What is UX Web Design?
Why is it given so much importance in in every business?
Basic difference between UX web design and UI web design
Specialties UX web designer and web designer
Latest UX Web Design Trends
Discussing above points will enable you to understand this topic in depth. Let's begin with the very first topic then.
What is UX Web Design?
UX basically stands for user experience and UX Web Design is all about satisfying customer's need through a product that satisfies their preferences, goals, and behavior. It is the most important factor to create a high-end quality website. So the key responsibility of every UX web designer is to first understand the users and then make a useful product or web design that is understandable for users, usable for them and looks appealing enough for making them take some action for it.
Take a look at one of the best examples of a great UX Web Design:

This page of 'Graze' is a great example of an eye-catchy and responsive website. It is giving complete info about what do they do and has a guide for users to explain how it works.
Let's see few initial steps that will be helpful to make a perfect UX web design;
Understanding your users in every aspect by empathizing them is the best way to understand any users. You can find out the answers to following questions that will make you understand them easily;
Who are my users?
For what purpose they want a product like yours?
How will they use it?
What should they prefer your product?
What kind of web design will they prefer to see?
What best should be done for fulfilling their expectations?
Answers to these questions will not only help you to understand the user's expectations and behavior, but also help the designer to end-up with a suitable web design.
Why is it given so much importance in every business?
Making a visually appealing website is not the solution for all. But if you are able to make the user understand every message on the website easily, then you can even beat the top rated website. Many websites have a wonderful design, but they are forgotten very easily. The reason behind this is, they could not inform customers what exactly they can make of them. Their purpose, uses and other essential components were not that clear, hence could not impress the users at the first attempt.
UX is important in web design for every business because
All of us want to give every visitor to our website a good experience and UX is all about creating the good user experience.
People forget websites that do not appeal them at the very first visit.
It is useless to create a beautiful website until and unless the user can understand and use it easily.
So make sure your website fulfills 2 essential functions for putting the best impact on users.
Provide the information effectively in a short and crisp way.
Enable them to complete any kind of transaction in easy steps.
Try to inform them maximum about your within a short time, because online users do not stick to one platform for a much longer time.
Remember- If you are not able to convert your visitor into leads, then there is no use of making a website appealing.
Basic difference between UX web design and UI web design
Many of us usually have confusion about UX and UI. It has a broad scope of discussion. UX is all about user experience, i.e. how are they feeling ultimately as soon as they enter into a website, while UI is more about graphic designing, but the responsibilities are tougher.
For a better understanding of this topic, here are a few key points;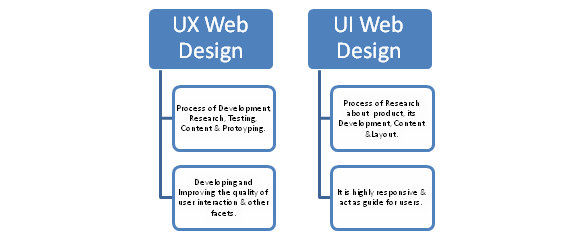 UX design is a simple process of developing and improving the quality of user interaction and other facets of the company.
It holds a big responsibility for the process of development, research, testing, content as well as prototyping for effective and quality results.
UI design is also a challenging task because it is multi-faceted and is responsible for factors like research about the product, product's development, content and the layout.
An ideal UI design is highly responsive and acts as an effective guide for users.
We can say UI design as a digital field that holds a lot of responsibility for developers too.
Specialties UX web designer and web designer
For understanding UX and UI web design, the basic difference between both designers should also be known.
UX Web Designer specialties:

Overall Design- It is based on the User's needs and requirement. It is mainly Human-centered design.
Thought process- Both critical & creative thinking is necessary.
Visual strength- Task flows as well as scenarios, based on user's expectation.
Expertise pattern- They are skilled on Wireframes, prototypes, and research.
They may need the help of- Program manager, information architect, content strategist and functional analyst. With the help of these professional experts, a UX designer can make a highly-effective website design to attract maximum customers.
UI Web Designer specialties:
UI is about User Interface, i.e., the important part the product that is visible to the user when they enter into the website. It actually faces them. It is mainly based on Client's need and requirements.

Overall Design- It is mainly a visual design based on client's needs and requirements.
Thought process- They require both Creative as well as Convergent thinking skills.
Visual strength- They make a website visually appealing with the help of fine typography and colors.
Expertise pattern- It is full of Graphics, mockups, and layouts.
They may need the help of- A team of Web, graphics and brand designer,and front-end developer can help a UI web designer to create an attractive web design.
Latest UX Web Design Trends that every business should focus on.
Gone are those days when we had only a few options for designing websites. We are living in a fast-moving world and so Web Design Trends also keeps changing rapidly. There are many ways of website designing, but only handful numbers of ways are proved to be effective for making a website highly responsive and capable to attract more potential customers. We have listed a short list of popular trends for UX new web design trends. Have a look;
Responsive Website-
Making a website responsive enough will be on top of the priority list because only a responsive website will stop the user to your website and can ultimately convert them into leads. It is one of the most effective factors for targeting a good UX Web design. Try to design for every device.  An Example of 'The Guardian" is a great example. Have a look at their website's smartphone view, tablet view, and desktop view respectively.
Simple web designs-
You must have heard a famous saying – "Simplicity is the best policy"
Yes, that's true. Users prefer a simplistic, de-cluttered and visually explanatory web designs. Minimalistic web designs are now more preferable to the users.  Using simple cards for letting the customer choose their topic of interest and click for more info is the best way.
Example of Netflix- they have created one of the most simple and impressive designs

GIFs and other interesting animations-
These are a great way to gain user's attention from other competitors. Use of an interesting and informative GIF or animation can make a long-lasting impact on the visitor. But keep them limited because using too many of them can look your page messy.

Giant Ant is a live example showing us how creative GIFs can add a lot to a website. In the attached snapshot, you see cartoons of basic objects, and when you hover over the cartoons, they come alive as animated GIFs. What a wonderful way to combine strong content and GIFs.
Using Chat-boxes in a creative way.
This artificial intelligence system is proving to be one of the easiest ways to attract customers. If an interesting and responsive chat box is available on your website, then it has greater potential to give you more leads. It is a great way to save time.
Here is how 'Snap Engage' provides live support.

A lot of companies like 'snap engage' are using this for providing instant customer service. A user-friendly chat box on your website will definitely be a great help to go ahead of others. A chat box pop-up is a must for a responsive UX web design.
Data and Analytics/ Data Visualization-
Showing facts, results, and other data like above with help of great visual effects is a great way to show users, the actual status of a company.

Presenting various data to users like above example increases user-interaction to a great extent.
Interaction between user and interface-
This kind of interaction can also be termed as micro-interactions. Using forms to get user's info, making them like your posts are few commonly used micro-interactions by many businesses. These interactions between the user and interface help to understand user's behavior and expectations from your business or products.
Conclusion:
In this piece of article, we discussed end-to-end factors associated with UX web designing. Answered all questions like what is UX web design, how does it work, how a UX web designer can end-up in making an effective web design, what are qualities of UX web designer and UI web designer and most importantly we discussed top UX web designing trends every business should look for.
0
Website Designing