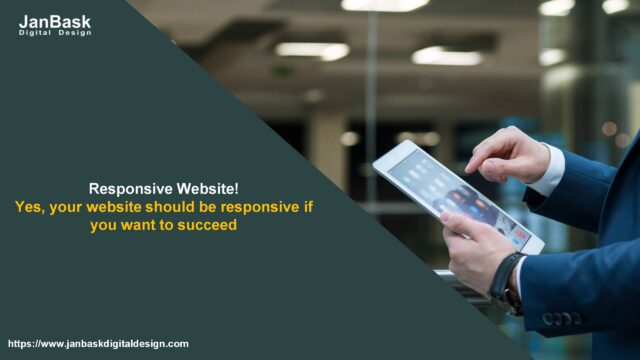 We are living in a digitized world and having a website is absolutely common. But, making your website responsive is something that can take you ahead of competitors. Almost every brand wants to have a best-in-class website, but very few companies succeed to make a truly responsive website to get maximum potential clients.
In this piece of article we will try to understand;
What is a truly responsive website?
Value of a highly responsive website.
Tips to make a website responsive.
Reasons to prefer a responsive website.
To keep people totally engaged and make them stay on your website for a longer period, you really need to think out of the box. We will discuss every point in detail to let you know more clearly about the responsive website.
What is a Truly Responsive Website?
Let's begin by taking a closer look at one of the most popular brand's highly-responsive website. Attached screen-shot will clear what we are talking here. How wonderfully the automobile giant 'BMW' has designed their website and this is how its site looks on different devices.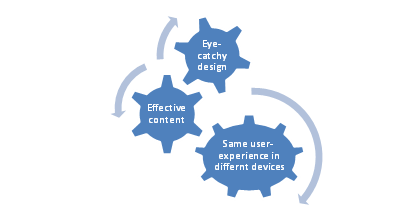 Anyone can easily observe these specialties:
Similar user-experience in all devices with different screen size.
Simple and strong call to action button.
Eye-catchy design.
Short, simple and crisp content.
Design, as well as content,has equal importance on making a website responsive enough for everyone. By a truly responsive website, we mean that the overall website design is impacting user's mind in a great way and is capable enough to give good viewing experience, irrespective of smart devices they are using. In recent years, there has been a tremendous increase in a number of people using smartphones for browsing. So, it has become more important for website owners to keep mobile users into main consideration and design website compatible with mobile users. We are saying this because traditional PC users have now been decreased to a great extent.
Fact- One of the biggest search engine Google is also giving preference to mobile-friendly websites in its search algorithm.
Three most important essentials of any responsive website are:   

Adjustable images and media
Flexible grid-based website layout.
Important breakpoints
Importance of Adjustable Images & Media-    
It is an important feature that helps images and other media to change or adapt themselves according to the smart devices we are using to access them. In this case, the web browser has the ability to shrink or expand according to the device. For example, if we are opening a website in PC then it will give the same user-experience as it will give on opening them from a mobile.
Flexible grid-based website layout-   
It is a great way to make the content and the image of the website according to the device's screen size. Suppose you open www. Janbask.com in a smart device with a 10inch screen, then the image will be little bigger than how it will look on a 5inch screen. Any responsive website is far more away from the pixel-based approach. According to text size, margins and widths, the overall website's look can be changed very easily.
Break Points-
Do you know the website you are accessing can detect the type of device you are using?
Yes, that's true, the website gets displayed according to your device. Only after recognizing the device type or size of the web browser, it displays the page appropriately to give you good user-experience. There are features that can control end to end factors included in displaying a website on your device. It can include height, width, orientation and many more.
Providing a similar experience to every customer who is switching to your website is not an easy task. It is not an easy task and requires a lot of effort for producing quality content and functionality. Every Responsive website usually includes many benefits like making browsers more appealing, giving more exposure to the brand and easily convert visitors into customers. Hence, your responsive website is something that the user will remember for the lifetime.
Value of a highly responsive website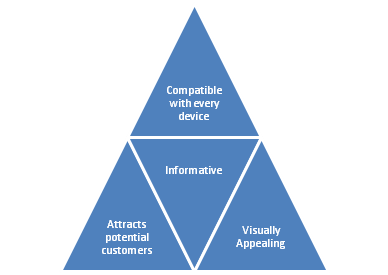 Makes the website visually appealing.
Provides more info about a brand.
Attracts a number of Potential customers.
Increases the possibility of sales.
How can a responsive website make your website appealing?
Construct is a live example of how to design a page more appealing,even if you have very few words to use. They have shown their prime message effectively.
This is a benefit that plays a huge role whenever a user gives a first look at the website. With an engaging website, one can easily convince visitors that this website has something different from many others. It's a great way to put a positive impact on the first impression itself. As soon as any user logs in into a website he/she will make an image on their back of mind and this will be based more on how you portray your brand. The more they will like the look, the more they will take interest in your services. Hence, more will be the possibility to get potential buyers or clients on your webpage.
Tips to make a website highly responsive
Designing a single website for multiple devices should be done carefully and perfectly. We are saying this because a user should get the positive impression when he will open your website for the first time in any of the devices.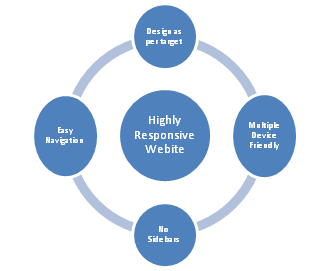 Be it a smartphone, laptop or any other device. Right from color, layout, images, layout and other factors, everything should be taken into consideration.
Design your website with respect to target users.
Keep the design mobile friendly.
Pay special attention to the navigation.
Eliminating sidebars is a good way to accomplish your aim of making a responsive website.
Paying attention to the navigation is one of the most important factors you need to look after.
Site navigation and a responsive web-design go hand in hand. The adoption of making any website highly responsive has a huge impact on it. Simple navigational choices, using icons along with text, providing drop downs are a few tips that should not be missed while making a responsive website. Believe me, a lot of consideration and hard work is required. Common pitfalls should be avoided.
It is not possible for customers to install every app and use. This is why making a website compatible with every device like phone, tablets, desktops, etc., including different screen sizes, should be preferred in every case.
Reasons for you to prefer Responsive Website;
Making a responsive website is a simple way to make a simple visitor to your website into a loyal customer, that too without distracting them.
Customers usually don't like to install applications over the phone, because it is not convenient for them.
Users don't prefer to experience tailored experience for each of their devices.
People will tend to use more of a mobile site than any other application if you make your website truly responsive.
Make sure your call to action button should always pop-up in such a way that users should not be able to resist from taking a positive action.
Ultimately user should have a good experience.
So, throughout this article,we discussed all possibilities of making a website more responsive. We even saw some great examples of companies that have succeeded in making their respective websites 'highly responsive'. We are sure that our readers are pretty sure about what is the actual meaning of a responsive website, its value, tips to make one and reasons to prefer a responsive website for your business.
0
Website Designing