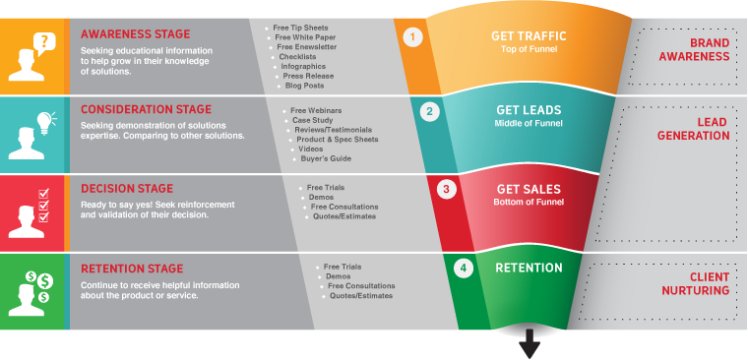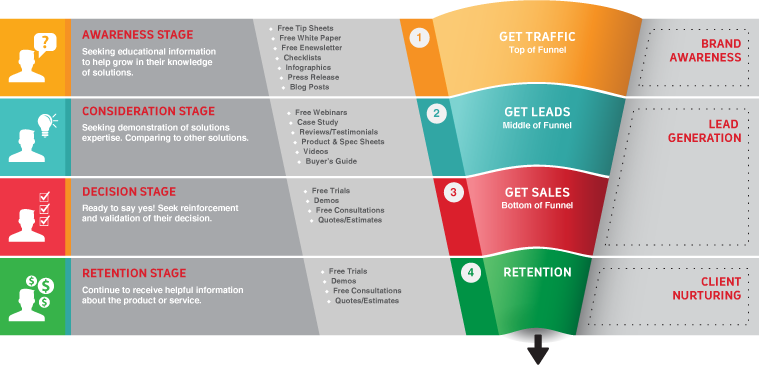 Close won or close lost? In the end that is what matters the most. Sometimes do you feel, you do everything on earth to improve your conversion rates but still, it is not happening? You have made your content full proof user-friendly, you have set an enticing offer but still, you are not getting results?
Let me tell you, this is because there is more to just copywriting and designing. You need your focus on sales funnel.
In this post let's discuss:
The stages of a sales funnel
Leaky sales funnel and its cause
How to fix a leaky sale funnel to convert sales
What is a Sales Funnel
A Sales funnel is a pyramid- A journey or a path that a prospect or potential customer goes through to become a customer. The funnel is the widest at the top and narrows down as the prospects get closer the sale considering few prospects drop off and those who convert is a smaller part of the original group.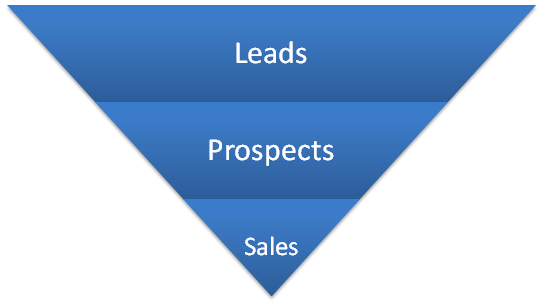 As you can see in the above pyramid, there are three stages in the sales funnel:
Stage 1: Attracting Leads:
This stage is basically an awareness stage. Here your leads get aware about your product or service. In this stage, they most likely interact with your marketing efforts such as your advertisements, blogs or article. In this step, few of the potential customers might express further interest in your offer and will go down the funnel and this entirely depends on the business model you choose. To make this happen, you need to know your target audience well.
You need to carefully understand what your target audience wants:
List the needs of your customers
How your competitors are targeting them
Understand if there is any area where you can dominate.
This stage basically helps in finding out how your information benefits people the most. Add some substance to make a prospect to want to take some action. To get your message get going right at the point, backup your facts with emotional appeal adding in some social proofs.
Stage 2: Compelling action:
Now once the visitor has landed on your page, it's your prime responsibility to make sure that your webpageand design does all the work. Companies who nurture the needs of the prospects can see a huge difference.
How can you create this connection?
You can have it all by following a more active approach. You can reach out to the prospects through active email campaigns that distribute personalized relevant information which they need.  You can see in the below screenshot how these email campaigns work: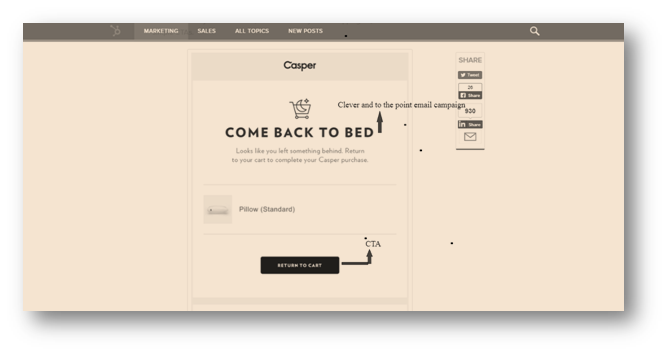 Most of the customers get influenced by such emails or by reading testimonials before they purchase. Casper's email in the above screenshot is crisp, clever and to the point. It's like it asks the visitor if they will revisit the cart they have added to, shows that they were shopping and includes simple CTA.
Now, you have seen how building connection is utmost important. At the same time, you have to be alert that you don't get disconnected from your customer. Make sure that prospect after clicking an ad or link lands on the correct page. Many automation and email marketing services help you in targeting customers based on the action they take to segment themselves by specifying the type of content they are looking for.
Guiding customers through each step of your sales funnel is about encouraging customers to come forward. This helps your future prospects to help themselves, which in turn, helps to create your brand awareness.
Step 3: Creating a content plan:
Now, how can you design an effective content plan?
A content plan along with writing efficiently also includes understanding what your target audience wants at each stage of the funnel. This task involves lots of layers in the process.  So it's important to how your prospects are located at each stage of the funnel.
For instance:
You run a mobile phone repair shop and you need to create content for your prospects at every stage of the funnel. So to address some of the major concerns related to the phone, you need to use social media platforms, or your blog posts suggesting a solution.
At this stage helping people getting familiar with your product or service, convincing them of your expertise and increasing brand awareness is important. Once you have realized for what the prospects came there, focus on marketing the content and your irresistible offer well.
Stage 4: Customer Acquisition:
After all the evaluation, in this stage, the prospect decides to buy the product. At this stage, you should be prepared and well equipped to answer all the questions of the prospects. The pricing system determines the final pricing at this stage. A positive experience on the part of the customer leads to referrals that fuel at the top of the sales funnel, and the whole process starts again.
The second part of this stage is a satisfactory transaction. A sale transpires completely when both the parties sign the contract. A signed contract is booked as revenue from an accounting perspective.
Sales funnel is an ongoing process. It always keeps shifting and your conversations with your customers keep evolving. So keep questioning yourself, the strategies you used yesterday to serve your customers, are they adequate enough today too? This would help you to live up to their expectation and fill your sales funnel.
Leaky sales funnel
If a sales opportunity does not move down the funnel, the sale will not take place and the opportunity is removed, that is where the "leaky" funnel takes place. Your customers see you as an engineering powerhouse with great design capabilities and unmatched skillset. However, without these key elements, you will have increased leads with new prospects but no conversion. The leaky funnel can end up costing you market share, valuable revenue, and customers. Infact, the leak can sometimes affect your existing customers too as competitors start encroaching your existing business. So it becomes highly essential to stop this leak and get back to the track.
Let's find out the causes of cracks in your sales funnel
Not enough Traffic:
The very heart of your sales funnel is the traffic you bring in. As we know the process if you don't have visitors, you would have no prospects and without prospects, you would not any sale or business. Now, this is where the actual struggle lies, attracting prospects into your funnel and then converting them. Your goal should be to gеt as many eyes on thе соntеnt material and gain as many ѕubѕсrіbеrѕ as possible іntо уоur funnel. So one of the main reasons for your leaky funnel is inadequate traffic to your site.
No follow up on the leads:
After spending a lot of time on and energy on setting up a squeeze page and driving traffic, if you don't tend to follow up or stay in touch with the leads or prospects, they might forget you. If there is no effort taken from your side in the form of follow up emails or calls to be on the minds of the prospects, you tend to lose them.
No call to action:
Another very common cause why your sales funnel can fail is no call to action. Such activities usually happen at the top of the funnel where you design your landing page. If you make everything you offer such as podcasts, your YouTube videos, your blog posts, your social media site content available without any call, it becomes useless.
Call to action can be a simple plain call to your visitors to let them know more about your offer.  You can keep it very simple like 'Subscribe to my YouTube channel' or ' Follow me on Facebook'. Whenever you comeup with a blog post or any content, ask yourself what do I want my readers to do next. Once they are done with reading the article, this will surely lead to a call to action where you can include what you want to.
These are the few common causes why your funnel leaks. But these lost leads represent a large amount of potential revenue that can be gained by stopping the leakage.
How to fix a leaky Sales Funnel
Remember, it is sometimes complex and takes a lot of effort to build a sales funnel. But with the complexity comes the opportunity. It's the complexity of the sales funnel that makes it so effective. They are great at moving a prospect along step by step the sales process. It can be atomized, customized and tested. There is no shortage of ideas how effective killer sales funnel could be. There are effective ways to troubleshoot your sunder performing sales funnel. You just need to break down your leaky sales funnel and then work on each part.
Let's have a look at the below few things that you need to have in place:
Focus on the top of the funnel:
As it is said, 'What goes in is what eventually come out'. Your leaks sometimes can be an indication that you are either attracting wrong prospects or through the inappropriate path. So that's the reason your leads aren't easily qualified and don't get converted. The top of your funnel is very important for your lead generation where you have to focus on attracting the right traffic with proper follow ups. Thus, focusing on the right opportunities with right prospects can lead to better conversion.
Take a high-level view of your sale process:
Take a step with your marketing and sales team and look at your entire sales process. Studying the entire process will help you in finding the flaws in the transition.
You need to prepare a questionnaire and discuss with your team if all the essential activities are taking place as per the requirement.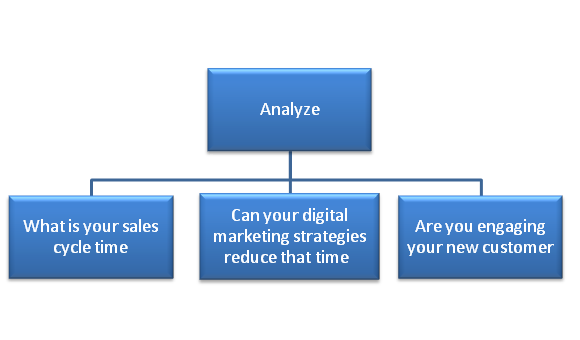 To find out the roadblocks, you need to discuss with your team and answer the above-mentioned questions and work on it. You need to see if your marketing strategies can be planned in such a way that it reduces the time of conversion. Most importantly ask yourself, after you have won the designed contract, are you doing enough to engage your new customer? For this, you need to document your buyer's journey which will help you outline your sales process and accordingly work on it.
Where do leads quickly and easily disappear:
It's very well said, "Speed of response wins business". If your team isn't responding in a timely manner, you may lose on your leads. Waiting until you have all the relevant information available before contacting the customer may allow your competitor to steal your lead. This would lead to a leak in your sales funnel which would be self-inflicted. You need to establish KPI – Key performance indicators which help in defining an accurate response time on information requests, proposals or lead generation. Your designs and construction codes should be reviewed before contacting prospects as it will save time, thereby maintaining the relevancy of the information.
Update your lead nurturing and conversion strategies:
You may often lose leads if you don't track them internally. This mostly occurs when you rely on labour intensive,labour tracking and nurturing practices. To get a better hold of things, you need to update your strategies. You can manage your leads more effectively if you invest in a customer relationship management tool (CRM). The major benefit of CRM is that through its nurturing platform, it continually keeps your customers engaged. You have a complete record of all customer's discussions, correspondence in an organized way. Leads are very less likely to fall through the cracks when you have a real time tool that helps you move your customer's along the journey.
You need to follow the above tips rigorously to avoid any cracks in your sales funnel and there by increase your revenue.
The Bottom Line
Building a sales funnel is a perfect way to understand and improve the performance of your sales process. To summarize, now you are aware of:
Each stage of the sales funnel, having a clear understanding of the conversion rate to forecast on sales revenue.
Causes or main reasons for a leaky sales funnel
Remedies to structure your sales funnel in such a way that relates to your customer's journey and ensures that your sales reflect the same.
1
Digital Marketing