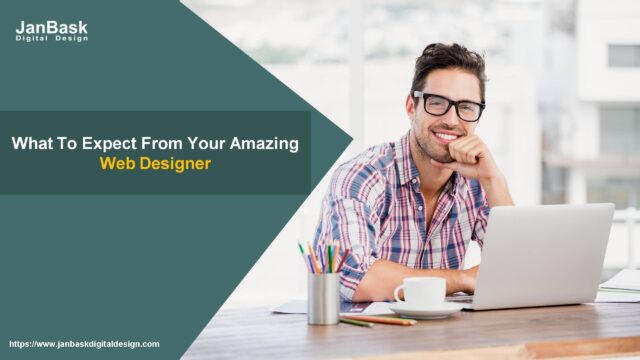 Every business needs a well-designed website to operate online and get the identity in the competitive online marketing world. However, it is much important to develop website of the company impressively and dynamically that should be focused on business theme or type and its related audiences across the world. Usually, there are many things to acknowledge in a business website such as its design, technical accuracy, downloading speed, content, etc. Among all of them, website's design is a most prominent aspect that you need to take care of wisely at the initial phase of website development. Every business owner should take it seriously that his web designer is able to develop quality rich and business-centric design for the website. Apart from that, there are so many things that you can expect from your amazing web designer such as:
Creative thinker 
Your web designers should be creative in website designing approach for the clients of all fields like medical, real estate, corporate firm, eCommerce, etc. An experienced web designer should be aware of the exclusive designs and layouts trending in the industry for designing dynamic websites of customers of all domains. So, it is recommended to hire quality web designers having expertise in designing websites for businesses of all ranges. 
Customized Web Design Services 
It's expected to avail customized services from an experienced web designer. A skilled web designer is supposed to be ready to deliver tailored services to the customers according their requirement. Moreover, your web designer should be skilled enough to make necessary changes in the designs, layouts, and overall look of client's website according to his demand. It depicts the quality and flexibility of a web designer to fix all issues of client's website with ease.
Ability to face challenges 
Your website designer should be flexible to accept the challenges, criticisms and feedbacks given by the clients time to time. He or she needs to be ready to accept the rewards and suggestions given by the customers regarding web designing services and modifications done for their sites. It shows the mental status of the designer to take reviews or views of client positively or negatively and learn from them to perform better in future.
Awareness of new web design themes 
In the Google play store; there are several web design themes or templates available, which can be used to plot creative interfaces and designs for a website. Your web designer should have knowledge of online sources to fetch useful web design themes which add more value to the client's portal.
Interest to learn new things
Your web designer should have keen interest to learn new things and variety of designs for business websites to make them more eye-catching and client-centric. To learn new things, your designer should remain in search innovative designs, layouts and think positively to make things feasible through his or her efforts. It is another quality that you can expect from your amazing web designer.
Dedication towards work 
Your web designer should be dedicated towards the work assigned to him. He or she should be committed to perform work with quality and deliver it under the stipulated time frame of client. It can lead the confidence and reliability of customer on the web designer and his services that can benefit him for more projects in future.
Good presentation skills 
A web designer should be expressive and have skills to represent his innovation and work done in designing business-oriented website for clients. Also, he or she is expected to understand the need of client and design business website for him accordingly.
Thus, above are few points that you can expect from your amazing web designer. Also, you can check all the factors before hiring services of a web designer in the industry and get right worth of your investment easily.
0
Website Designing