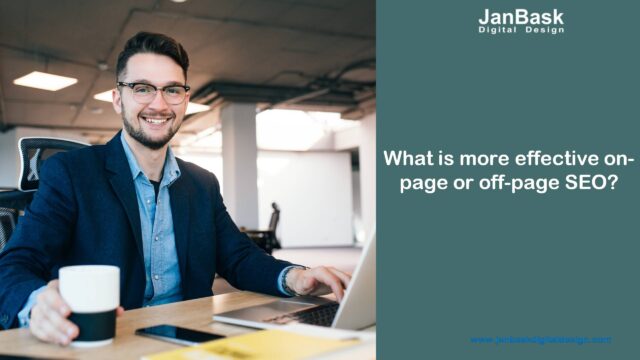 It is simply not fair to distinguish between the effectiveness of on-page SEO and off-page SEO. Both are equally important to the businesses online in attracting organic traffic from the search engines. Both are considered to be an important aspect towards a website's search engine optimization. Both on-page SEO and off-page SEO helps in identifying your website within the search engines by making it more visible among the site visitors.
Most Important SEO Techniques:
Here is why both are equally important in improving the organic traffic from the search engines.
On-Page SEO Techniques
On-Page SEO is more of how the content in your website is represented among the search engines. It deals with making the website structured enough to enhance visibility among the search engines by the implementation of key phrases and keywords.
Read More: How to Boost Your Domain Authority?
Thus it helps improve the overall readability of the website also. Presence of a good content is very important for a website and is among the important strategies in On-Page SEO. It is desirable to have a content that is unique, original and of the highest quality.
More emphasis is given on the content quality rather than content quantity and similarly the addition of keywords within the content.
On-Page SEO techniques:
Page Title
Meta Description
URL structures
Heading tags(H1,H2,H3,H4,H5,H6)
Body Content
Image SEO
Internal Linking
Off-Page SEO Techniques
Off-page SEO gives an insight regarding how your website is gaining popularity with the help of other websites. It is usually a long-term process and the results can be achieved only with respect to time. It deals with more of an online reputation of your website among the customers and clients.
Read More: How to Boost Your Page Authority?
Backlinks are among the most important Off-Page SEO technique which includes attracting backlinks from highly reputed websites that are similar to your niche. Improving social interaction with your brand is another Off-Page SEO technique wherein the number of social signals can improve the website rankings in the search engines. This can be achieved by starting social media pages for your websites and interacting with prospects and customers about the upcoming products and replying to the feedback they receive about the products or services offered by them.
The content can also be promoted through these social networking websites to a wider audience who might find information about the shared content to be relevant and thereby helping in lead conversions. Thus the online reputation of your brand can be maintained at the same time improves rankings in the search results of leading search engines.
Some of the leading social media sites
Facebook
LinkedIn
Twitter
Google+
Pinterest
off-page SEO techniques
Blogging
Participate in the related forum.
Community Creation in Social Networking Sites.
Submit website to directories like dmoz, botw, etc.
Bookmarking to sites like Digg, Delicious, StumbleUpon, Propeller, etc.
Image sharing in photo sharing websites like Flickr, Picasa, Photo Bucket, Picli, etc.
Like photo sharing, you can publish/share your product videos, expert opinions, and reviews of your product and make them public in YouTube, Metacafe, Dailymotion, etc.
Write reviews about others businesses or ask your friends/clients to write a review of your business in major business review sites like RateitAll, Shvoong, Kaboodle, Stylefeeder, etc.
Instead of going global and facing huge competition, make your website local so that search engines can easily view your website and fetch the content. This will help you to reach a targeted audience. Submit your website to Google Local, Maps, Yahoo Local, Yellow Pages, Superpages, Hotfrog, etc.
Write articles of your own and submit them to popular article sites like Ezine, Go Articles, Now Public, Buzzle, etc. This will help you to attain some deep links for your website (though it's usually a slower process).
If you are a business/service provider then go for PR submission in popular PR websites like 1888pressrelease, Open PR, PR Leap, etc. This will help you to publish your site in Google News.
Do some classifieds submissions to advertise your products for free. Try Craigslist and other major classifieds sites like Kugli, Myspace, iMadespace, Vivastreet, etc.
If you own an e-commerce website, this is a good strategy for advertising and easily branding your products for free. Submit your products to Google Product Search, Yahoo Online Shopping, MSN Online Shopping, and other major social shopping network sites like Kaboodle, Style Feeder, Wists, Five Limes, Buzz Shout, Ohmybuzz, etc.
Participate in Answers by asking and answering relevant questions and placing a link to your website in the source section if necessary. If you don't spam, this is another great way to increase your link popularity (Yahoo Answers, Cha-Cha, Answer Bag, etc.)
Share your website documents like business documents, information brochures, and slides in Google Docs, Slide Share, etc. This will help you brand your website.
0
SEO